Charity fined over restoration work to former hotel in Northamptonshire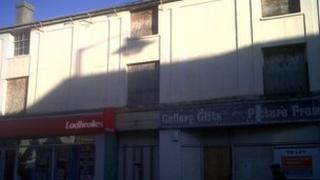 A charity has been fined £415 for failing to maintain an empty building it owns in Northamptonshire.
Mayfair Charities Ltd was prosecuted after ignoring council demands to carry out work on the former Angel Hotel on Silver Street in Wellingborough.
The building needs painting and the removal of protective boarding.
The council said the fine was lenient because the charity had promised to carry out the work during January.
The council agreed that the look of the building was ruining the character of one of the town's main shopping streets and undermined the town's status as a conservation area.
Councillor Graham Lawman, chairman of the council's development committee, said: "Many people had noticed and commented upon the gradual deterioration of this historic building and Wellingborough Council has long been concerned about it, so we have acted.
"We're working hard to enhance and improve our historic town centre, and it's a shame when buildings like this become an eyesore through lack of maintenance."
The Angel Hotel closed in the 1960s and was later used as a doctors' surgery and then an art shop and showroom and has been vacant for around 20 years.
Work on the building is expected to begin shortly.
Councillor Lawman added: "The owners have assured us they will now comply with the notice and will begin the repairs by the end of the month.
"We will be watching and would expect the scaffolding to go up in the next few weeks."
The charity, which makes some of its money from investment properties, makes donations to organisations and intuitions which support the teachings of Judaism.
The charity was unavailable for comment.