Work to restore Victorian chapels in Northampton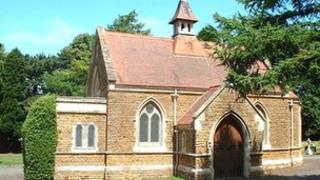 A £67,000 project to restore two Victorian chapels in Northampton is due to start on Monday.
The restoration of chapels in Kingsthorpe and Towcester Road cemeteries is part of Northampton Borough Council scheme to safeguard the town's architecture.
Work on both chapels will centre on restoring the period flooring, such as Kingsthorpe's colourful clay tiles.
Both chapels were built in the late 19th Century.
Tim Hadland, the council cabinet member for regeneration and enterprise, said: "These buildings mean a lot to many Northampton families and it is wonderful that they are being restored. I am absolutely delighted."
Corby-based firm Jeakins Weir will be carrying out the work, which is expected to take around three months to complete.