Northamptonshire artist transforms vinyl records into sculptures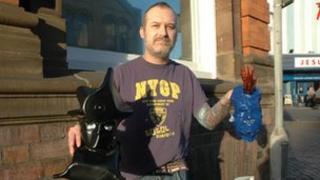 A Northamptonshire artist has devised an unusual way of recycling old records - by moulding them into sculptures.
Simon Yexley of Kingsthorpe heats old vinyl and moulds it into artworks which include a punk and another of Jesus Christ.
Mr Yexley said it was a way of remembering vinyl - in many of his creations the title of the record is kept intact.
Some of his sculptures have sold for more than £100.
Mr Yelxey, who works with friend Alex Wall, said: "Once we started heating and moulding the records we realised that they had a lot of potential.
"Vinyl can be a reminder of youthful times; embarrassing haircuts, quirky fashions, friends, girlfriends and much, much more.
"We decided to recycle the unloved vinyl and give back some of those memories in our own special way."
Mr Yexley added: "Why not turn their fond memories into a work of art?"
They are not the first to make sculptures from vinyl.
In 2007 Korean artist Jean Shin created a sculpture of a wave from old records to convey the idea that as new technology is developed, older technology becomes redundant.