NHS funds Rushden boy Zac Knighton-Smith's surgery in Germany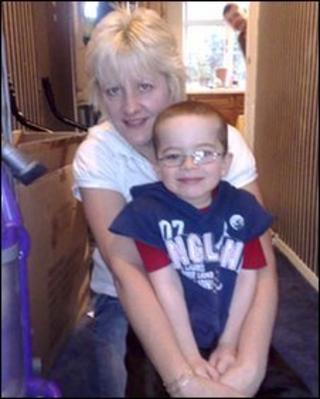 A Northamptonshire boy who had to go to Germany for life-saving surgery has had his operation paid for by the NHS.
Zac Knighton-Smith, seven, from Rushden had his Neuroblastoma - a rare form of cancer - treated after the operation was twice cancelled in the UK.
His mother, Sam, had to pay around £8,000 for her son's treatment.
The NHS initially refused to reimburse Mrs Knighton Smith but after Wellingborough Tory MP Peter Bone intervened consultants climbed down.
In a statement, NHS Northamptonshire said: "We can confirm that the cost of treatment is being borne by the NHS."
The Knighton-Smith family, who flew to Greifswald in Germany for the operation last week, initially had an appointment for Zac to have the operation in the UK on 22 December, last year.
'Huge difference'
"[However] the surgeon's secretary told us that the surgeon was unable to keep to the appointment due to a lack of paediatric intensive care beds," Mrs Knighton-Smith said.
Another appointment was made for 4 January, but this was cancelled 30 minutes before they were due to leave home.
"I was straight on the phone to the consultants in Germany to see if they could help," Mrs Knighton-Smith added.
Zac's case was then taken up by Peter Bone, MP for Wellingborough, who highlighted it in the House of Commons last week and demanded answers.
"Can we have a statement from the Health Minister on what went wrong in this country," he said.
This later led to the NHS agreeing to fund Zac's operation.
Mrs Knighton-Smith said they were pleased to get their money back.
"This has made a huge difference to us because obviously we don't have the pressure of having to worry about where the money is coming from," she said.