Up to 150 jobs under threat at Stobart depot in Corby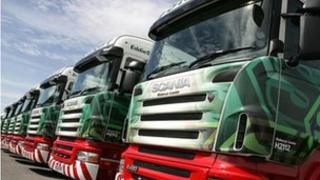 Up to 150 jobs are under threat at a road haulage depot in Northamptonshire run by the Stobart Group.
The compay wants to close its chilled goods depot on Eismann Way in Corby and a facility at Alcester in Warwickshire, as part of a wider reorganisation.
Management said it is investing in a new warehouse in Magna Park, Leicestershire, and hopes to create new jobs there.
A consultation period with staff in Corby is now under way.
In a statement, Stobart said: "The company is proposing these changes to improve efficiency, reduce environmental impact of the movement of empty trucks, and ultimately to deliver a continually more cost-effective service."
Tory MP for Corby, Louise Mensch said she was looking to have a meeting with the company to see if the jobs can be saved.
"I want to see how many people from Corby can expect to get some of those jobs in Leicestershire.
"We hope they can accommodate as many workers as they possible can," she said.