Northampton's £8m bus station plans go on display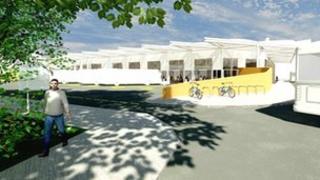 Plans for the new bus station in Northampton have gone on display at Greyfriars bus station.
It will be built on the old Fishmarket site closer to the town centre.
The project will cost around £8m and be funded by the county and borough councils and West Northamptonshire Development Corporation (WNDC).
Councillor Andre Gonzales de Savage, from the county council, said: "We want to link up all of the transport facilities in Northampton.
"Creating new bus and passenger facilities is an important step in the regeneration of the whole town centre."
The new bus station will replace the Greyfriars building which will be knocked down for the expansion of the Grosvenor Centre.
The 27 indoor bays at Greyfriars bus station will be replaced by 12 indoor bays and nine outdoor bays.
Mike Barlow from the Northampton Bus Users' Group said he likes the plans, but thinks the layout needs closer examination.
"I would like to see how these plans will work in practice rather than just looking at a computer simulation," he said.
Councillor Tim Hadland, Northampton Borough Council's cabinet member for planning and regeneration, said: "We believe our design will provide the right facility that meets the needs of bus users and our town centre.
"However, we want to hear from the thousands of bus-users that come into Northampton."
The plans will also be displayed at the Grosvenor Centre in Northampton on 24 January.