Daniel Riviere Northamptonshire stabbing case may be re-examined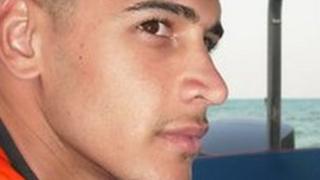 The case of a 21-year-old man who was stabbed to death in Kettering in 2009 may be re-examined by the Crown Prosecution Service.
The CPS said it is likely to look at the evidence given at the inquest into Daniel Riviere's death after witnesses named a man who allegedly rapped about the killing at a house party.
Mr Riviere had apparently been in a fight over drugs when he was killed.
No-one has been charged over the death and his family say they want justice.
The inquest heard Mr Riviere had gone from his home in Fulmar Lane in Wellingborough to Union Street in Kettering at around lunchtime on 16 February with two friends, allegedly to buy cannabis from James Demaio.
Knife in back
At the house Mr Riviere and Mr Demaio started to fight and during the struggle Mr Riviere was stabbed in the back by a third person.
The court heard Mr Riviere ran to his car with the knife still in his back but the blade had pierced his heart and lung. He died at Kettering General Hospital.
Witnesses at the inquest at Kettering Magistrates' Court earlier said Terrance Reid, a friend of Mr Demaio, had been in the room at the time of the stabbing and was likely to be the killer.
Several of the witnesses said they had heard Mr Reid bragging about the killing and said Mr Reid believed he had saved Mr Demaio's life.
Giving evidence at the court, witness John Turner said Mr Reid turned up to his house party and began rapping about the stabbing through a karaoke machine's microphone system.
He said: "He was MCing, saying things like I kebabed Riviere, I stabbed Riviere... saying he 'sliced and diced' him, things like that."
Case remains open
Mr Reid had to be brought to the court on a police warrant after failing to turn up as a witness.
When he denied the allegations many from the public gallery shouted that he was lying.
Mr Riviere's family said they would not give up until justice was done.
His mother Connie Stone said: "I don't feel justice has been done. If another avenue (to prosecute) should present itself I shall pursue this and never give up."
Coroner Ann Pember recorded a narrative verdict but Det Sgt Nick Gray said the case was still open and encouraged anyone with information to come forward.
Following the verdict a CPS spokesperson said that given the seriousness of the alleged offence, it was likely the CPS would look to see if any new evidence emerged during the course of the inquest.