Opposition to housing plans in Moulton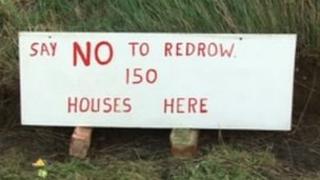 Newly-submitted plans for the development of 150 homes in Northamptonshire have been met with opposition from residents.
A campaign group has been set up to oppose the plans, submitted by Redrow Homes, to build the homes on a site in Northampton Lane, in Moulton.
Eighty people have joined Moulton Says No To Northampton Lane Development.
The campaigners said the development would destroy the village but the developers said the homes were needed.
Rachel Wilson who is leading the campaign group group, said: "The homes are not suitable for this land. We already have 150 homes proposed at the other end of the village."
She said facilities in the town were already working at capacity.
The group has also claimed developers failed to consult residents properly on the application but the developers denied this.
Redrow Homes said in a statement: "We have consulted extensively with the local community in Moulton and we believe this is reflected in the proposals.
"We believe this is a suitable location for new homes... Our proposals will meet an identified and pressing local need for more private and affordable housing."