Bailey's in Wellingborough keeps licence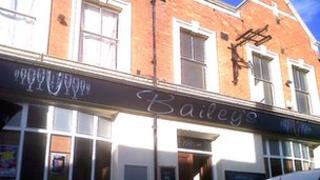 The managers of a trouble-hit nightspot in Wellingborough have been ordered to appoint door staff and install CCTV or face losing their licence.
In a licensing review meeting earlier, representatives of Bailey's on Cambridge Street agreed to enforce the safety measures asked for by police.
Officers requested the licence review following a spate of aggressive incidents in 2011.
These included a brawl and assaults with glass bottles.
Police had called for representatives of Oak Tavern Ltd, which runs the bar, to provide door staff on weekends and to appoint a new supervisor.
A spokesperson for the company said some changes had already been made.
Simon Collinson of Oak Tavern Ltd, which owns a chain of pubs including Bailey's, said that many changes had already been implemented, including the appointment of a new supervisor.
The company also agreed to appoint door staff every Saturday night and on evenings when there is entertainment.