Bid to start up emergency first-aid team for Blisworth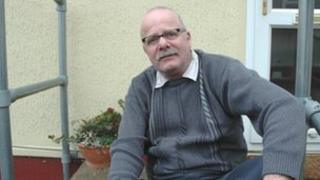 Former St John Ambulance worker Tony Archer was watching television with his wife Sue when a screening of Real Rescues came on BBC One.
After seeing how Community First Responders (CFR) helped save lives on the programme, Mr Archer decided he wanted to do the same for people living in the Northamptonshire village of Blisworth.
The 63-year-old was first inspired to get involved in first aid when a colleague on the shop floor in Luton had a heart attack.
"I just stood there helpless, but when I saw what the first-aiders did, I thought 'maybe I could do that'," he said.
Mr Archer and his wife went to South Africa seven years ago and there again he was able to use his first aid training.
"I was able to use my skill generally to keep people calm while an ambulance came," he said.
After watching Real Rescues he contacted the control room at East Midlands Ambulance Service (EMAS) to see if he could find people willing to help him set up a Community First Responder unit for Blisworth.
'Real difference'
A spokesman from EMAS said: "When someone has had an emergency in the community, the on-call CFR is dispatched at the same time as an ambulance.
"Because they are already in the village they can be providing essential treatment whilst the ambulance crew travels to the scene."
EMAS provides the necessary training and support for CFRs but the local schemes are meant to be financially self-supporting.
Money is raised in variety of ways and the ambulance service is also grateful for any input from local businesses and community groups.
On average it costs £2,000 to set up a scheme and purchase a life-saving kit bag. Each scheme requires a minimum of two equipment bags to cover a village area.
EMAS community defibrillator resuscitation officer, Sarah-Jayne Parsons, said: "Nobody knows when they might need emergency assistance.
"Community First Responders make a real difference to local people and we thank all our volunteers for the support they give to our service."
Mr Archer is meeting Ms Parsons on Friday in the hope it will lead eventually to Blisworth getting a Community First Responder team of its own.