London 2012: Kettering nurse to join Olympics medical team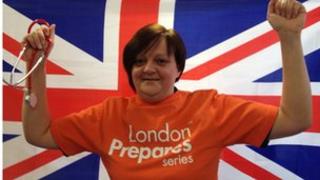 A ward sister from a hospital in Northamptonshire has been chosen to be a part of the medical team at the London 2012 Olympics.
Karen Larmour works in the trauma and orthopaedic ward at the Cranford Unit at Kettering General Hospital.
Ms Larmour will spend 10 days in the Field of Play Recovery Team at the main stadium.
She said: "I put in for the job because I thought it was a once-in-a-lifetime opportunity."
"I'm an A&E nurse by background so that helped me get through the selection process," she added.
"We went to the women's beach volleyball [test event] at Horse Guards Parade, but I didn't know whether I got the job until recently."
The position is voluntary and Ms Larmour has asked for time off from the hospital to attend the Games.
She will undergo training in the coming months.