Northampton charity relay remembers murdered men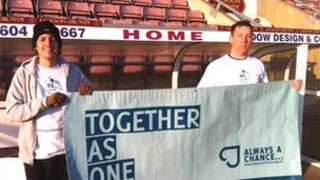 Hundreds of people are taking part in a relay run to 92 football grounds in memory of a two men murdered in the US.
Northampton charity Always A Chance charity was set up in honour of James Kouzaris, 24, of Northampton, and his friend James Cooper, 25, of Warwick, who were shot dead in Florida in 2011.
More than 250 people have already signed up to take part in the relay.
A 16-year-old boy has been charged with their murders and is awaiting trial.
Organisers hope the 12-week event will raise at least £40,000.
The funds will help young people at risk of being involved in violent crime.
The event has been organised by Joe Hallett and Paul Davis, who were friends of Mr Kouzaris and went to school with him.
Mr Hallet said they set up the charity to change young people's lives.
"We have someone on a unicycle, a man doing 56 miles on a micro-scooter and a man running 10 miles in a Bananaman costume,
"We wanted to do something original so we decided to go on the road and take our event to people," said Mr Hallett.
During the first leg of the relay Mr Davies and Mr Hallett led a team to Coventry City's Ricoh Arena which is 32 miles from Sixfields.
Mr Davies said: "We have not set a target on how much we want to raise but we think we could raise at least £40,000."
Those taking part would have collectively run more than 2,000 miles for charity.
"The longest leg is from Old Trafford back to Sixfields which is 117 miles and is going to be gruelling," said Mr Davies.