Northamptonshire family raises £63,000 for daughter's treatment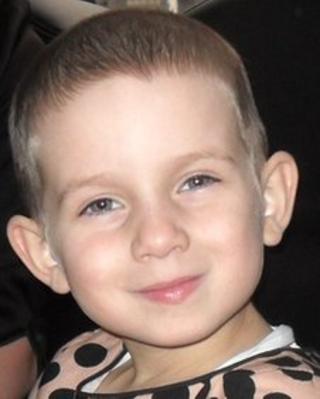 A family in Northamptonshire has raised more than £66,000 in less than a month to help treat their daughter's illness.
Niamh Curry, five, was diagnosed with neuroblastoma in December 2010.
Neuroblastoma is a rare form of cancer which affects the developing nervous tissue in young children.
After exhausting all options in the UK, Niamh's parents are trying to raise £450,000 to get her treated at a private hospital in the US.
Niamh's father Chris said they had received more than 2,000 donations.
'Vigorous treatment'
"We are lucky because we have a lot of very good friends and family who are doing a lot of fund-raising but also we have a very strong internet presence.
"The biggest donation we've had was £5,000 and we've also had donations of £1." he said.
Niamh had to undergo vigorous treatment on the NHS once she was diagnosed, including three months of chemotherapy, surgery, stem cell therapy and 14 cycles of radiotherapy.
He added: "We were due to get immunotherapy as part of her treatment, but unfortunately we found out that Niamh had relapsed, which meant she couldn't get that particular treatment."
Doctors on the NHS do not offer immunotherapy to cancer patients who have had a relapse because they believe it would not cure them.
"Immunotherapy is not an easy treatment but we want to go through with it because we think it is the best chance for our daughter," said Mr Curry.
The Curry family had to spend time to research where and how they could get Niamh treated.
Mr Curry said: "After talking to consultants over the last few months we think that our best hope is going to a children's hospital in Philadelphia."
Niamh would undergo immunotherapy in the US which is designed to stimulate the immune system and help to fight cancer.
Mr Curry said they had given themselves about nine months to raise all of the money.
"My priority is to get Niamh out to America as soon as possible," he said.