Replacement of Northamptonshire's street lights continues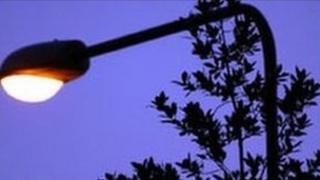 New brighter LED streetlights are being fitted to five Northamptonshire streets this week.
Daventry is the latest area to benefit from a £132m private finance initiative (PFI) to replace and maintain the county's street lights.
The agreement between the county council and Balfour Beatty will see lights replaced over five years.
The county council had turned off half its 66,000 lights to save £2m before the PFI agreement was made in June.
The process to install the lights in Rodderick Way, Dean Walk, Salcey Close, Cook Close and Welton Road in Daventry started this week.
Street lights in Corby were replaced in November and some lights have been installed in Higham Ferrers.
Andre Gonzalez De Savage, county council cabinet member for infrastructure and public protection, said: "People will see a real difference in the quality of the lighting and the technology is such now that light pollution is greatly diminished."
Pat Walsh, general manager for Balfour Beatty, added: "We are pleased to support the county council in improving the environment for those who live, work and travel in Northamptonshire."