Northamptonshire couple jailed over starving ponies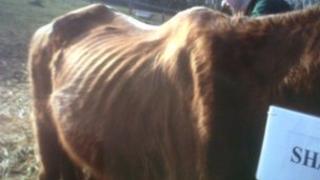 A Northamptonshire couple have been jailed for 16 weeks and banned from keeping animals after admitting cruelty to seven ponies seized by the RSPCA.
Welfare officers found the starving animals in a field in Blisworth.
Some had ground down their tooth enamel trying to get the last blades of grass from the field in Station Road.
Barbara Morrison and her partner Paul Flowers, both of Wellingborough, were sentenced on Thursday at the town's magistrates' court.
Prosecutor Kevin McCole said the welfare officer first went to the site on 4 March, 2011 and during the visit noticed the animals appeared thin.
When questioned later Morrison claimed the animals had had veterinary care but said she could not remember which surgery she had consulted.
'Serious act of cruelty'
The officer then saw a man digging a hole on the site.
The man told the officer he was Flowers' father and had been asked to dig a hole but said he did not know what for.
The inspector later found two dead ponies buried on the site and the seven other ponies were seized by the RSPCA on 8 March, 2011.
Morrison, 43, of Brooke Close, and Flowers, 43, of Finedon Road, denied the charges until the case went to trial in January 2012.
Mr McCole said: "They accepted the animals were in a poor condition.
"In interview Mr Flowers said 'I know they are underweight - yes I do.' He said there were difficulty with finances and getting the feed.
"When asked why a vet wasn't called he said he had consulted a vet on the internet."
Sentencing the pair, Susan Roberts said: "You have been buying and selling horses for over five years you had experience with these animals.
"We find you equally culpable. Only a custodial sentence is appropriate."
RSPCA inspector Sue Haywood said: "We are satisfied with the sentence, given that this was such a serious act of cruelty against seven horses.
"These horses were left to suffer for a long period of time, but had the defendants taken action sooner then this neglect could have been avoided."
Because the couple, who are both unemployed, refused to hand ownership of the animals to the charity, the ponies had to be kept at a boarding house which cost the RSPCA £18,000 in fees.
The ponies have now been rehomed.