Racist graffiti scrawled on houses in Wellingborough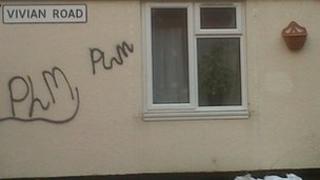 Graffiti slogans sprayed on the walls of houses in Northamptonshire are thought by police to have racist connotations.
Letters PLM scrawled on walls in Vivian and Newcomen roads, in Wellingborough, are believed to be an attack on the town's ethnic minority residents.
A police spokesperson said the force is investigating the crime and are treating it "very seriously".
The town's council said the area would be repainted as a priority.
Shashi Dholakia, councillor for the Castle Ward where the graffiti was found, said its racist nature worried him.
"It is targeted at the minority community - the words aim at the Indian, Bangladeshi and the Pakistani community," he said.
"It is a hate crime. It does worry me."
The letters PLM are believed to be an acronym for a racist phrase and have been reported in Wellingborough in the past.
A police spokesperson, said: "Graffiti can be a form of anti-social behaviour, it can detrimentally affect the quality of life for people living in an area, is unsightly and can increase the fear of crime.
"Any form of graffiti is unacceptable but especially graffiti that may be racist, rude or offensive and we take this very seriously."