Northamptonshire PCSO explains her role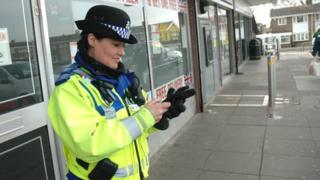 Police Community Support Officers in Northamptonshire could be facing job losses as the county council plans £500,000 funding cuts.
The politics in county chambers and meeting rooms directly affects officers like Kirsten Bates.
Ms Bates, 35, has been patrolling the Kingsthorpe and Boughton Green area for five years.
"I started as a special constable for three years and then decided that I wanted to take it further.
"I really enjoy my job and spending time with people on my patch. We try to help victims of crime offering reassurance and support," she said.
On a Thursday morning, the first thing Ms Bates does when she walks into the office for a shift is to take a look at what happened the night before.
"I have to check all of the incidents and have a chat with the duty police officer to see if there is anything I need to be aware of," she said.
On this particular shift, Ms Bates visited shops to make sure that they did not have any overnight incidents.
One of the newsagents on Harborough Road said there had been a disturbance at their home the night before. A brick fence had been knocked by youths in the area.
"Many people often tell PCSOs about things that happened to them rather than report it to the police, but we always advise them to report it officially as well," said Ms Bates.
PCSOs were introduced to the county in 2002 to be a uniformed presence in the community. They often act as a connection between the public and various other county agencies, as well as tackling anti-social behaviour.
She said "We take care of people from nought to 90 years old. If I know a young person in the area can benefit from some training I can refer them to organisations like the Prince's Trust."
'Passionate'
Ms Bates also spent some time with a 90-year-old resident in Kingsthorpe.
"It's important to make sure that people are ok and ask if they need any help. Some of these people don't have anyone," she said.
PCSOs work with both statuary and voluntary agencies to provide support in the community. They can refer people to housing, and assist in managing the neighbourhood.
In a recent meeting, the police authority announced that it was deferring the reduction of five PCSO posts and 20 police constable posts by 12 months.
However, it is still not clear if PCSO jobs will be lost in the future.
"I'm very passionate about what I do and love being a PCSO but if the job goes then I will have to find something else I enjoy," she said.