Plan for new homes in Irchester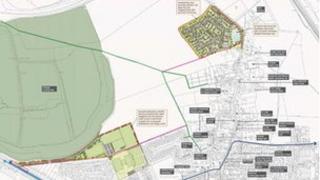 A plan to create a housing estate on the edge of a Northamptonshire village has been revealed.
Developer Barwood wants to build more than 100 homes on 12 acres to the west of Irchester's High Street.
Should the plans be approved, Barwood said seven acres of land would be given to existing an sports association off Alfred Street.
The plans, presented to residents on Tuesday, are likely to be submitted to Wellingbrough council in March.
Irchester councillor Timothy Maguire said: "No-one ever wants development in a village but if we are going to have houses built here, this is the best place for it.
"There are some concerns over the access to the houses and the further development of the land - but the developers seem to be taking suggestions on board, and it is in the very early stages."
Sam Dorrian, a surveyor for Barwood, said: "We will seek to refine our plans to take account of the feedback we receive."
Should the application be given the go ahead, building work could begin in February 2013, developers said.