Ding family murders: Victims' relatives speak of agony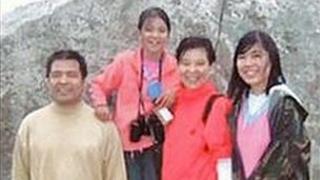 The relatives of a family found murdered have spoken of their "agony" and say lives could have been saved if police had gone to the right address.
Jifeng "Jeff" Ding, his wife Helen and their daughters Xing, 18, and Alice, 12, were found stabbed in Wootton, Northampton, on 1 May last year.
An independent report published on Tuesday found police "badly mishandled" a 999 call, believed to be from Xing.
Police are still hunting prime suspect Anxiang Du, 52, from Coventry.
In a letter to Northamptonshire Police and the Independent Police Complaints Commission, the Ding and Ciu families spoke of their frustration at how the 999 call made on 29 April was dealt with.
'Killer caught'
"The whole family including 76-year-old parents cried together in agony when we imagine our children lying in blood hopelessly and the outrage caused by the perpetrator," they said.
"We appeal and will not give up until the perpetrator has been caught."
They added: "If the police had made the right judgement and been to the victim's address, and gone there within 15, 30 minutes or even less, this would have resulted in catching the perpetrator and also gaining more time to save lives.
"There was screaming involved, so the situation should have been judged as very dangerous and frustrating so hanging up the phone would not have been voluntary.
"Please carefully consider the points mentioned in order to stop making the same mistakes and improve results of investigations.
"We certainly believe the British Police Force has intelligence, determination and capacity to solve this case."
They said they had received an "apologetic letter" from Suzette Davenport, the deputy chief constable of Northamptonshire Police.