Barton Hall in Northamptonshire is to become a hotel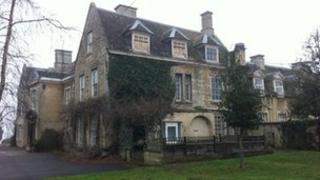 A Grade II listed manor house in Northamptonshire is to be turned into a hotel, creating 80 jobs.
Barton Hall near Kettering will be converted into a 52-bedroom hotel, a restaurant, a wedding venue and spa.
Borough councillors in Kettering approved plans for the redevelopment at a meeting on Tuesday night.
Planning committee chairman Shirley Lynch said: "I look forward to seeing the building being used by local people."
The building was owned by the Wicksteed Trust, but has been bought by the Hazleton group, which owns Rushton Hall.
Tom Hazleton from the group said: "We have spent 18 months sorting out these plans and it is great to get to this stage.
"We want to get a restaurant on the site by this summer," he added.
The Wicksteed Trust said it had to sell the building because it did not have the funds to restore it.
Oliver Wicksteed from the trust said: "Barton Hall has been in the Wicksteed family since the 1930s and members of my family used to live there."
The Hazleton group said work will start on the building in April 2012.