Duke of York pub in Wellingborough could be demolished for care home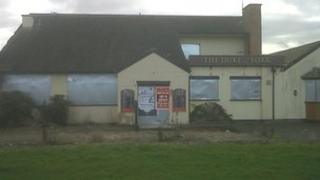 A disused pub in Northamptonshire could be demolished to make way for a 60-bedroom care home.
An application has been submitted to Wellingborough council to build on the site of the Duke of York pub on Northampton Road in the town.
Developer Brampton Valley Wellingborough Ltd said the home could create up 80 jobs.
Theapplicationhas been recommended for approval by council officers despite residents' opposition.
Councillor Robert Hawkes, who represents the Swanspool ward, said: "It's a great shame that the pub was no longer viable.
It is a loss to the community but unfortunately a lot of pubs are going that way."
The pub was opened on the site in 1935 and closed in 2009.
Ian Nunney, historian at Wellingborough Museum, said: "The pub is an historic pub, it takes its name from another far older pub that used to be on Oxford Road.
"There are concerns over access to the site, there is opposition to it, but we will have to wait and see."