£25m student housing earmarked for Northampton town centre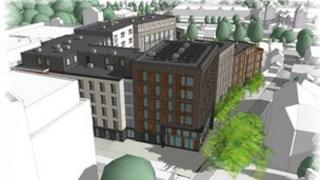 Accommodation for 500 students which would cost £25m could be built in the centre of Northampton.
The housing is earmarked to be built on the site of St John's surface car park near the Royal and Derngate Theatre.
The University of Northampton has recently submittedplans to Northampton Borough Council.
But residents in the area said they were concerned about the noise problems that could be caused by students.
Ash Nazzir, who lives in the area, said: "At the moment there is already noise coming from nightclubs on Bridge Street, so another 500 students could make things worse."
Delia Heneghan, director of marketing at the University of Northampton, said: "We have a specialised team that monitors student behaviour and encourages a sense of community."
The University of Northampton already has seven halls of residence around the town.
It said there had been a demand for student housing over the past couple of years.
Ms Heneghan said: "We feel we need to invest so that we can attract more students to the university."
A full borough council meeting will discuss the plans on 30 April.