Northampton gasometer preservation bid rejected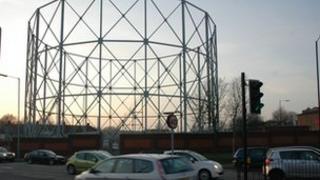 Campaigners trying to preserve 125-year-old gasometers in Northampton had their bid thrown out by councillors.
Lib-Dem members had asked a full Northampton Borough Council meeting to consider retaining the structures on Towcester Road, in an Enterprise zone.
They also hoped the public would get their say before the legal planning process took place.
However, Conservative councillors threw out the motion, prompting accusations they lacked "vision".
Tim Hadland, Conservative and responsible for regeneration, said: "Potentially anything like that could ruin the possibility for the new enterprise zone."
But, Brendan Glynane, Lib-Dem leader, said: "I think the Conservative group that voted against these plans showed a total lack of vision about driving this town forward."
West Northamptonshire Development Corporation (WNDC) has already expressed an interest in acquiring the land around the site of the gasometers, which are owned by National Grid.
Chris Garden, WNDC's director of regeneration, said however: "We do not have any current plans to acquire the gasholder sites.
"The nature of their future redevelopment depends on National Grid's vision for the sites, as well as planning policy and remediation requirements."
Campaigners for the plans said the gasometers are important to the future of the town.
Paul Varnsverry, of the campaign, said: "Northampton has lost so many of its key interesting buildings over the decades and if these towers are demolished I think it will leave a void in the landscape."