Northampton Lift Tower centre plans rejected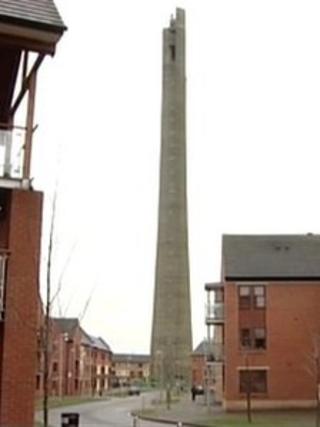 Plans for a visitor centre at the base of Northampton's Lift Tower have been rejected by a planning inspector.
The 418ft (130m) high Grade II-listed tower - taller than St Paul's Cathedral in London - was built by Express Lifts and opened by the Queen in 1982.
The visitor centre plans were rejected by the borough council last year. The firm behind the scheme appealed.
But a planning inspector rejected the appeal, saying the visitor centre would compromise the building.
'Industrial heritage'
Planning inspector David Nicholson said Northampton Borough Council was right to turn down the plans in March last year.
He said the centre "would compromise the elegant and unadulterated structure which I have found to be an important part of its significance".
He added: "I note the claim that the proposals could secure a long-term future for the building, and that a visitor centre for information on history and industrial heritage would help to interpret its history. These matters count in favour of the appeals.
"On the other hand, there is little evidence to show that the structure needs extensive and urgent maintenance or that the scheme would produce substantial funding that could not be found without a harmful extension.
"I conclude that, on balance, the benefits put forward would not outweigh the harm to the listed building, and to the living conditions of neighbouring residents, and that therefore both appeals should be dismissed."