Number of self-employed in Northamptonshire grows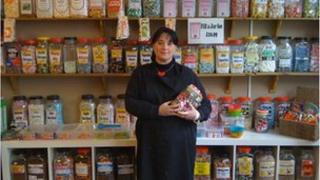 From new sweet shops to marketing websites - the number of people setting up businesses in part of Northamptonshire is on the rise.
Research for the BBC by Experian revealed the east of the county has seen a 6.1% increase in the self-employed workforce.
The figures mean that 6,000 people in East Northants work for themselves from a working age population of 50,000.
Business experts in the county welcomed the entrepreneurial spirit.
Maxine Aldred, development manager for the area's Federation of Small Businesses (FSB), said: "The East Northamptonshire area has always been known for its strong entrepreneurial spirit and has a lively small business community.
"The area has had to cope over the years with the demise of our traditional industries leading to the rise in start ups going forward.
"The area is a blend of rural and urban giving rise to a strong mix of industry sector start-ups."
Northampton was the only area in the county where the number of self employed people dropped slightly by 2.5%, while areas like Wellingborough, Corby and Kettering and East Northamptonshire reported increases of 2.3%, 0.9% and 0.4% and 6.1% respectively.
Business owner Leanne Knighton, 32, is one of East Northamptonshire's many success stories.
Mrs Knighton set up her traditional sweet shop, Granny Bubbles, in February 2011 after taking advantage of a £4,000 inheritance payout.
The company is now expanding and has a turnover of £120,000.
Mrs Knighton said: "Starting any business is hard. There are fees for everything. A new business isn't something you go into to make money quickly - especially now.
"But we have been very lucky - I started up last year and people have really supported it," she said.
"The shop has done really well and we are expanding - making our own sweets on site will be really exciting.
"I'm lucky that I have such a supportive husband who has made it possible for me to take the risk."
Going it alone
Tie success of start-up companies in Northamptonshire is partly down to the businesses in this area work closely together according to the FSB.
Mrs Aldred said: "Over the past six months we have stated that although the UK has mainly been reporting a slowdown in business confidence, our local businesses have been bucking the trend."
Another company that proves that this is the case is Meilli, a creative communications agency based in Corby that was started by three entrepreneurs from their bedrooms two years ago.
Owners Richard Mellan, Lisa Barton and Mike Dickson began with a laptop in their bedrooms. Now the trio are employing more staff from their base in the Corby Enterprise Centre, and are working with companies like Whiskas and Mars.
Mr Dickson said: "We are one of around 50 companies working in the Corby Enterprise Centre, and I would say around half of them are new companies that have recently been started up.
"While I am surprised at the rise of self employed people in the county, it is something we see a lot of at the Enterprise Centre."
Keith Turner, from the Federation of Small Businesses in Northamptonshire, welcomed the figures.
"It is good news small businesses are going it alone and setting up in business.
"As unemployment statistics are at a near 17-year high, it is good that those that have an entrepreneurial spirit are taking the risk and setting up in business."