Northampton urban skate park plans approved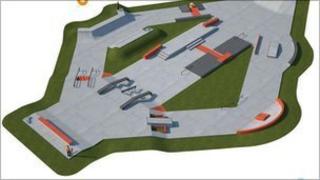 Plans for a £250,000 skate park in Northampton have been approved.
The park at Midsummer Meadow on Bedford Road is designed to look like a city centre and will be fitted with stairs, slopes and rails.
Kevin Charles, from Northampton Action Skate group (NAS), said: "It has been a long process but we are excited to see the project coming to fruition."
The park is part of a regeneration project near the River Nene, which will include new homes, offices and shops.
Work on the skate park is due to start at the end of April and it could be completed by July.