Titanic band tune played at museum in Wellingborough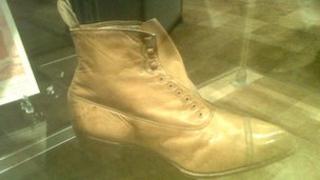 The final tune thought to have been played by the orchestra on the Titanic's deck as it sank was performed at the opening of an exhibition on the liner in Northamptonshire.
Nearer my God to Thee, was played by a quartet at Wellingborough museum.
It marked the 100 years since the sinking of the liner and was a tribute to those who died in the disaster.
Display organiser Jenny Whitby said she was surprised by the local death toll.
'Single boots'
She said: "Of all the stories we have here, only one woman survived, Mrs Cavendish, who was travelling in first class and who was related to a wealthy baron from Kettering.
"Everyone else, many of them young, died."
Amongst the collection, which includes a detailed picture of the inside of the ship and a replica of the bells used on board, is a collection of boots for the right foot.
A salesman representing Northamptonshire boot firm Henry Thomas Farley took boots for the left foot to America as samples.
Ms Whitby said: "These shoes are in perfect condition, you can see the work that went into them.
"They are made for the man about town, and this salesman would have chosen his finest pairs, some have tiny flowers embossed into them."
He did not get to promote the company's products overseas. He was among the casualties when the ship went down.
"Their matching pairs are probably at the bottom of the sea," said Ms Whitby.
Wellingborough museum's Titanic exhibition runs until 12 May.