Twenty years of selling newspapers in Northampton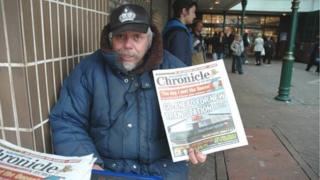 On Saturday the Northampton Chronicle and Echo and The Evening Telegraph will change their circulation from daily to weekly.
It means the five street vendors who work across Northamptonshire will sell their papers on the streets for the last time on that day.
Brian Howard is one of the vendors who has been selling the Chronicle and Echo on Abington Street in Northampton for 20 years.
He acknowledges that things have changed over the years with circulation gradually dropping on the streets.
"We used to get 200 papers to sell during the day but that has now changed. On average we now sell around 60," he said.
'Out in the snow'
Mr Howard, who lives in Long Buckby worked for 10 years in a saw mill at Harlestone Firs before he being made redundant in 1992.
He said the street vendor job came as a surprise.
"I saw the job when I picked up the Chronicle and Echo believe it or not.
"There was an advert looking for street vendors and I thought I would give it a try," he said.
A street vendor has to be out in all weathers and Mr Howard said there had been some tough times over the last few years.
"You name it, I've been in it and I've even been out in the snow. There was only one day where the snow beat me in 20 years," he said.
Big stories
Mr Howard remembers some of the big stories that have had an impact both in the county and nationally, such as British Timkin, an engineering firm which closed in 2001.
"I knew about it a few of weeks before it was announced but they flatly denied it. When it did happen it was big.
"Many of the workers didn't work on that day, they just went out to get over the shock," he said.
Mr Howard said the county remembered some of the big sporting moments from the major teams
"When the Saints won the Heineken Cup it didn't take off as much as people thought it would but when the Cobblers won at Wembley, sales went ballistic," he said.
"I also remember the tents that were around here in the centre of town in 1995, the people that lived in them were called the new travellers," he added
"The place was a pigsty and there were bottles everywhere."
Mr Howard is well known in the area and even has a Facebook and Twitter feed with some people calling him a legend.
"I'm not a legend, it's the public that have put me where I am now. I've advertised people if they have done good or achieved something that people said they wouldn't do," he said.
Mr Howard is taking a break for a month when the job finally ends but the future remains uncertain.
"I don't know what I'll do at the moment, if the right job comes along then I'm on it like a light."