Northamptonshire street lights switch-off 'saves £2m'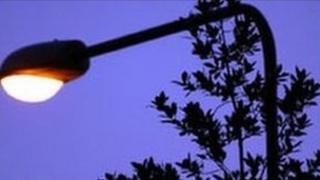 Nearly £2m was saved by switching off half of the street lights across Northamptonshire last year, it has been claimed.
Northamptonshire County Council gave the figures in a Freedom of Information request submitted by the BBC.
The Conservative-run council said it would have spent more than £4.9m on lighting this year but instead it spent £3m.
However critics said some people were scared to go out at night.
The authority made the move to turn off half of its 66,000 lights as part of a plan to save £100m in four years.
'Broken into'
The figure confirms the council's claims that it would save the money in electricity and maintenance costs.
David Farquhar, the council's assistant director for highways, said: "In energy savings alone, we have saved in excess of £850,000 in the first year, but this is offset by £250,000 which is the cost of spending four months to switch the lights off."
Labour councillor Mark Pengelly said the authority was not considering the knock-on effects of the switch-off.
Mr Pengelly, who also runs a business at the St James Estate in Corby, said: "Since the switch-off we have been broken into five times. We have had to install security cameras."