Northampton's homeless move into £5m block of flats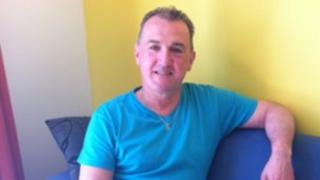 A purpose-built £5.3m block of flats in Northampton will help homeless people "move forward", a council has said.
Oasis House, in Campbell Street, offers emergency and long-term accommodation.
Recovering alcoholic Dave Deakin, who is one of the first to move into the centre, said he hoped it would stop him from "reverting to his old ways".
Northampton Borough Council said the building was intended to help people "look towards independent living".
Mr Deakin said living in the building and having access to its 24 hour-a-day help system would help him.
'Much needed' accommodation
"I know I can get better," he said. "Although I am not drinking, I still get the urge and I think the reason I am here in Oasis House is that I am not ready to be on my own."
The scheme was developed by the borough council along with a number of private companies and charities, including the Hope Centre, a charity that refers people to Oasis House.
Julia Rossiter, who volunteers for the Hope Centre, welcomed the opening.
"It's been a long time coming but the opportunities are there now for our clients to progress," she said.
Borough councillor Mary Markham said: "Oasis House will provide much needed accommodation and a range of services which will help its customers move forward with their lives and look towards independent living."
Staff at St Judes Drop-in Centre, a charity that hands out food parcels on Northampton Road, Kettering, said it has seen a dramatic increase in parcels given out.