Niamh Curry: Treatment money to support other families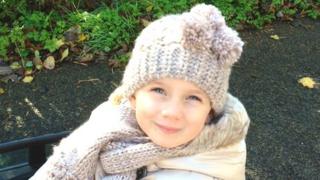 Up to £30,000 raised to treat a Northamptonshire girl who died from a rare form of cancer is to be used to organise a conference on the illness.
Niamh Curry, from Wellingborough, was diagnosed with neuroblastoma in 2010.
The five-year-old's family were trying to raise £450,000 for treatment in the US, but she died on 20 May before they got the chance.
The money will fund the UK's first Neuroblastoma Parent Education Conference in London in October.
At the conference, experts will share the latest research on neuroblastoma and give support to those who are affected by the condition.
Niamh's father Chris said: "When Niamh was diagnosed, we had so many questions, so the opportunity to provide other families with a chance to hear from, and ask questions of, renowned global experts is fantastic.
"Nothing will bring our lovely Niamh back, but we are pleased and proud that her legacy will allow this amazing conference to take place."
The event has been organised by the American Children's Neuroblastoma Cancer Foundation and Neuroblastoma Alliance UK.
Both organisations work to raise awareness of the condition and help families to raise funds.
Mr Curry said the rest of the money raised, which is more than £200,000, will go towards further research into neuroblastoma.
The conference will include expert researchers and oncologists from Britain, Germany, the United States and the Netherlands.
It will take place on 6 October at the Thistle City Barbican Hotel in London.