Northamptonshire students to cook for the Queen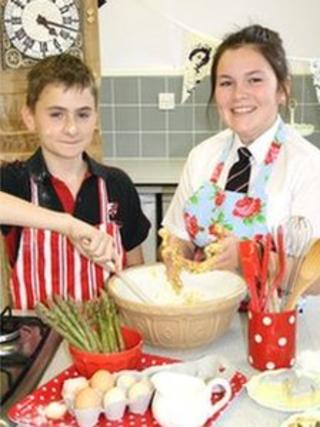 Eight students from a Northamptonshire school have won a competition to cook for the Queen.
Latimer Arts College in Barton Seagrave is one of four schools across the country to be invited to Buckingham Palace in June.
The school entered the Duchess of Cornwall's competition to mark the Queen's Diamond Jubilee.
The children created original recipes for the event, which included Diamond Fans and Elizabeth Slippers.
Carolyn Penny, the food technology teacher, said: "Our signature dish was the edible diamond encrusted slipper which recognises Northamptonshire's shoe heritage."
In total, 208 schools in the UK entered the competition, which was an idea from The Duchess of Cornwall as a special tribute to the Queen.
"The Royal Chef complimented the school on how original the dishes that the children created were," said Mrs Penny.
The chef will select the dishes to cook on the day and then some of the students will be allowed to cook the meals in the kitchen.
"Two of the students will work with me and the chef to create the dishes and the other six students will be in the function room learning about silver service and how to present," said Mrs Penny.