Jubilee Pageant: Northampton cadets boat needed lorry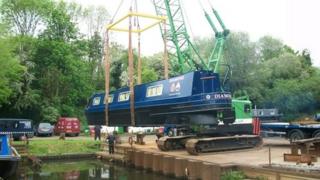 A narrowboat from Northamptonshire is to take part in the Queen's Jubilee Pageant later - after a 50-mile trip on the back of a lorry.
Northampton and Wellingborough Sea Cadets' boat had been set to make its way to the Thames by canal.
But drought meant some of the network was closed to boats, forcing organisers to bring in cranes and a lorry to help shift the 15-tonne vessel.
It will now join about 1,000 other boats in the pageant.
British Waterways shut locks on the Northampton Arm of the canal on 13 April.
The seven cadets, aged between 12 and 18 years, enlisted the help of Rob Masters Haulage to transport the newly-refurbished boat, which has been named Diamond.
A crane was used to lift the boat out of Arundel Marina near Thrapston and on to the back of a lorry on 20 May.
It was then put back in the water two hours later at Watford to continue its journey to the River Thames.
Chris Read, cadets district officer, said: "It was quite a difficult task to get the boat to the Thames but we were determined to take part.
"We had an allotted time slot to get the boat back on the water in Watford which we couldn't miss."
The group was selected to represent Northamptonshire's Lord Lieutenant at the event to mark Queen Elizabeth's 60 years on the throne.
Three vessels from Northamptonshire will take part in the pageant, including the Diamond, a Trinity 500 boat and St John's Crusader.
The cadets have been rehearsing for the pageant and will be part of the group leading The Queen's Jubilee barge, Gloriana, down the Thames.