Kettering General Hospital apology to disabled boy's family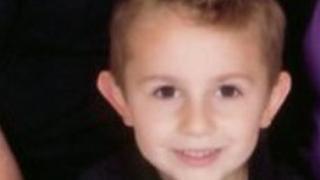 The family of a seven-year-old boy from Northampton has received an apology from the hospital that left him with limited use of his arm at birth.
Kettering General Hospital NHS Trust has admitted it breached its duty of care to the boy when trying to release him after he became stuck in delivery.
Callum Sharp suffered damage to his shoulder when hospital staff performed incorrect manoeuvres to free him.
The apology came after Callum's parents took legal action against the hospital.
The trust, which is responsible for the hospital, said if staff had used the correct procedure to free Callum's shoulder it would not have been damaged and he would not have suffered the debilitating disability.
Callum's mother Rebecca Sharp, 26, of Morgan Close, said the blunder had a serious impact on her son and said she hoped the hospital would learn from the mistake.
She said: "He has permanent nerve damage to his shoulder and limited use of his left arm - he can't pull up his trousers, can't do his own shoe laces, can't pick up his food or ride a bike.
"Hopefully (the hospital) will put the appropriate training in place and they will learn what effects Erb Pallsy can have on a family."
Kettering General Hospital NHS Trust confirmed an apology had been made but declined to comment further.