Animal sculptures line the streets of Northampton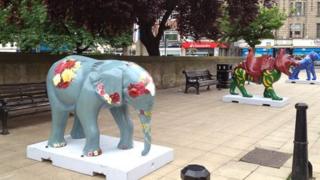 Sculptures of 28 safari animals have been put on display in the centre of Northampton.
Go Safari Northampton, a project involving local artists, is aimed at attracting visitors into town.
Giraffes, hippos, gorillas and rhinos each around 5ft (1.53m) high can be seen on streets, parks and open spaces.
The project is organised by arts company Wild in Art and is supported by Northampton Town Centre BID.
This is the second time that Wild in Art has brought sculptures to the town centre. In 2010 they bought a pride of lions to Northampton for 10 weeks.
The animals will be on display until 2 September.