Cricketer David Willey apologises for Northampton dive jibe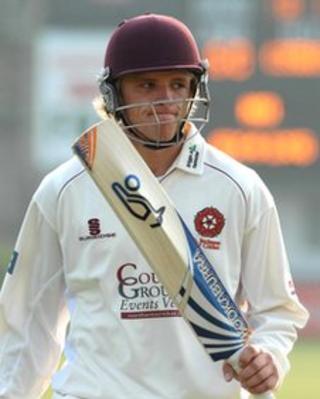 A Northamptonshire cricketer has apologised after describing his home town as a "dive", on a social networking site.
David Willey, who plays for Northamptonshire county, also said Northampton residents were rude.
Mr Willey sent out a tweet on Monday after a man barged into him in the town centre without apologising.
"Admittedly my comment was extreme and I'm aware all Northamptonians are not scum," he later said.
The cricketer, who is the son of former England cricketer and current international umpire Peter Willey, also held a door open for a family, for which he said he got no thanks.
He also explained that giving way to a fellow driver as he drove in the town elicited no acknowledgement.
'Stop and think'
Mr Willey has now apologised to anyone who was offended by his comments.
"I do believe Northampton town centre needs improving but to call it a 'dive' was an exaggeration," he conceded.
David Smith, chief executive of Northamptonshire Cricket Club, said he hoped coverage of his comments would make the player think about what he had said.
In a statement released by the club, Mr Smith said: "The players are reminded of their responsibilities on social media by the Professional Cricketers' Association.
"Modern media is a challenge for all professional clubs and we ask the PCA to ensure that players are educated properly.
"David is a very talented cricketer who is going to have a fabulous career but perhaps this coverage will make him stop and think about what he has said."