Shortage of swimming instructors at Olympic standard pool in Corby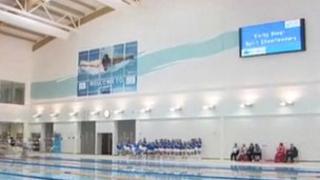 The £19m Olympic standard swimming pool in Corby is struggling to cope with demand after London 2012 because it can not get enough instructors.
Corby Borough Council said it had a waiting list of 300 children wanting lessons, but over the last six months it had failed to find any properly qualified people for the posts.
The council is now starting an apprenticeship scheme.
It hopes the scheme will help meet the shortfall in swimming instructors.
Liz Hudson, facilities managers at the pool, said: "We have been advertising for about six months on five separate occasions and have had a very low response, and those that have applied have not got the right skill set.
"Our apprenticeships will have the benefit of providing on-the-job training, helping them gain qualifications essential for the job."
The 50m Corby East Midlands International Pool was officially opened in 2009 by champion swimmer Mark Foster.