Northampton Asian community gold theft patrols stopped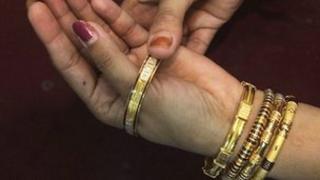 Patrols by members of Northampton's Asian community, set up after a rise in burglaries, are to stop after a police pledge to increase their presence.
The community started the patrols after burglars stole large amounts of gold jewellery in the St James, Dallington and Spencer areas.
A compromise was reached on Tuesday between Northamptonshire Police and residents.
Ch Insp Dave Spencer said: "We will do what we can to keep people safe."
The neighbourhood patrols started last week after a meeting between the community and the police.
Up to 50 people took turns patrolling the streets.
Amir Miah, from the community patrol, said: "We're looking out for our area, for family and friends.
"If people want to class us as vigilantes that's up to them. We're not here to break the law, we're here to protect our town, our people."
Mr Spencer said: "I think the concerns are genuine. I think the number of burglaries in a small community is alarming which is why we're taking this seriously.
"But we have a job to do and we will work with them and we will do what we can to keep people safe."