Kettering Town wedding reception cancelled over unpaid bill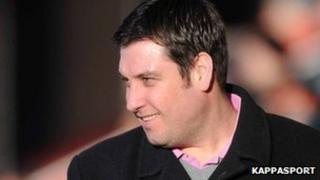 A couple have been told they cannot hold their wedding reception at a crisis-hit football club because there is no money to pay for electricity.
The reception was due to take place on Saturday at Kettering Town's Nene Park stadium.
But the booking had to be cancelled when an energy supplier cut off the power over an unpaid bill.
The couple, who have not been named, have since found an alternative venue, a former club official said.
George Rolls, who was acting-chairman at Kettering Town when the original booking was placed, said he was personally paying for the catering as an act of goodwill.
'Moral duty'
He said: "It would have been easy for me to pass the buck but I want the couple to have a fantastic day."
He said the couple had found an alternative venue in Wellingborough.
Mr Rolls was suspended from football for five years in July after breaches of Football Association betting laws were proven.
Despite no longer being involved with Kettering, he said he thought it was his "moral duty" to help so offered to pay to cater the event for 130 people.
"(The couple) are not happy, as the football ground is a lovely setting," Mr Rolls said.
"But there physically can't be a wedding there as there is no electricity."
Imraan Ladak, Kettering Town's owner, said the company which runs events was separate to the football club.
He said he was not aware of the booking until recently and had been told that another venue had been arranged.
The 140-year-old club, nicknamed the Poppies, are currently bottom of the Evostik Southern Premier league, on -5 points after they were penalised for entering a company voluntary arrangement (CVA).