Northampton council hopes shared services could save £9.45m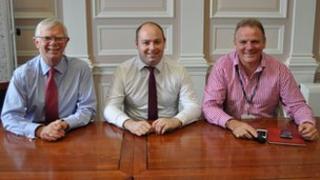 Northampton Borough Council plans to go ahead with plans to share back office services with other authorities, placing some jobs at risk.
The council hopes to save £9.45m over five years by working with LGSS, which was set up by Northamptonshire and Cambridgeshire county councils to run departments including finance and IT.
It is thought that 200 jobs could be affected by the move.
A business case will be discussed by the council's cabinet on 14 November.
Councillor David Mackintosh, leader of the Conservative-run borough council, said some "difficult decisions" had to be made.
'Grown on him'
Mr Mackintosh has refused to be drawn on the number of jobs that could be affected, but said the council would look to reduce management costs.
LGSS also runs finance and IT services for Norwich City Council.
Steve Bennett, Unison branch secretary for Northamptonshire, said he would not say he "applauded" the move, but said the idea of shared services had "grown on him".
He said there were fewer than expected redundancies when Northamptonshire and Cambridgeshire's county councils started working together.
"LGSS have been quite successful and hopefully they will continue," he said. "The more money that goes into the county council, the better it is for county council employees."
But Mr Bennett said the merger of services could be the first step in making a unitary council a "possibility".
"As money becomes tighter it's going to be harder to run small district and borough councils," he said.