Lottery money will restore Wellingborough shop frontages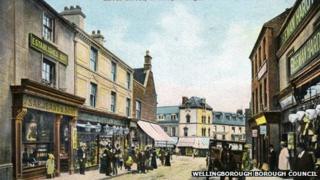 Shops in a Northamptonshire town centre could be restored to their "former glory" in a move to recreate historic street scenes.
The five-year council plan would see businesses in four roads in Wellingborough eligible to apply for grants to restore the properties.
Wellingborough Borough Council said the work would rediscover the town's "hidden treasures".
The scheme is backed by £1.4m from the Heritage Lottery Fund.
Businesses can apply for grants, which could range from £1,000 to £20,000.
Councillor Tim Allebone, chairman of the council's development committee, said: "We have some really beautiful buildings in our town centre, with a lot of history and character.
"Unfortunately, over the years, quite a bit of this character has been covered up or fallen into disrepair, and a number of shop fronts no longer match the buildings that they belong to.
"Many of the traditional market town features do still exist, but work needs to be done to discover these hidden treasures and bring them back to their former glory."
Mr Allebone said the grants would be offered to eligible shop owners and the council would support them through the application process and offer expert advice.
They hope to have contractors working on some of the shops by spring next year.