Lava & Ignite club crush deaths: Three witnesses found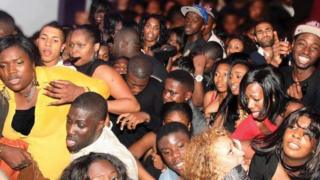 Three key witnesses to a Northampton club crush which led to the deaths of two women have been identified.
The two women died in hospital after the Wickedest Wickedest event at Lava & Ignite nightclub in October last year.
Police issued posters to universities across the UK to try to identify 28 witnesses. Police are now trying to find other people who were there.
Students Nabila Nanfuka, 22, and Laurene-Danielle Jackson, 19, both from London, died in the crush.
Ms Nanfuka, from north London, was studying leisure and tourism at the University of Northampton. She died at Northampton General Hospital.
Ms Jackson, 19, from Shepherd's Bush, was studying psychology and criminology at Kingston University in London and she died at Glenfield Hospital in Leicester.
Det Insp Louise Hemmingway, leading the search for witnesses, assured those appearing on posters they were not suspected of crimes.
She said: "We have now positively identified three of the people in the poster and have further names we are actively following up.
"We have been overwhelmed by the response from the public and the support they have shown the campaign.
"We have received hundreds of retweets and shares on Twitter and Facebook and the CCTV footage has been viewed over 3,000 times on YouTube.
"We would again reiterate that no-one is in trouble - we don't suspect anyone in the images of a crime - we just need their help as key witnesses."
Angela Ferdinand and Ronato Jackson, the parents of Laurene-Danielle Jackson, said: "We would like to make an appeal to any one of the 28 people who have not yet come forward who attended the Lava & Ignite nightclub in Northampton on 18 October, 2011."
The investigation is continuing and the officers are working alongside health and safety investigators from Northampton Borough Council.