Desborough energy from waste plant opposed by 2,500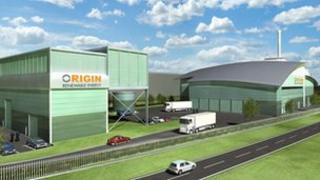 More than 2,500 people have signed a petition against plans to build an energy from waste plant in Northamptonshire.
Origin Renewable Energy submitted the plans to the county council in July.
The £60m plant, planned for Desborough, would burn landfill to produce energy, which the company claimed was a clean way to deal with waste.
But campaigner Gary White said residents feared the plant would be a health risk and were "scared".
'Strict rules'
Mr White, who collected the signatures, said he had spoken to residents in Desborough, Rothwell and Market Harborough.
"All of the measures put in place by the Environment Agency would only take effect after something has happened, which would be too late for Desborough," he said.
"People are scared to death. Unless someone can guarantee the health all of the residents in the area I won't be happy."
The plant would be built off Eagle Drive near Magnetic Park in the town and would include a 53m (174ft) tall chimney stack, a large central building, boilers, turbine hall substation and visitor centre.
Adam Buxton, the managing director of Origin Renewable Energy, said: "As part of the planning application, we have had to produce an environmental impact assessment which takes into account the human health risks.
"We have also set up a community liaison group and have taken many of the residents to a similar plant in Norway just to ease concerns. We have to adhere to strict rules set by Europe."
Northamptonshire County Council planning committee will discuss the plans at a meeting on 20 November.
If the plans go ahead, the company would still have to apply for a permit from the Environment Agency before it could start operations.