Horses to be moved from public land in Wellingborough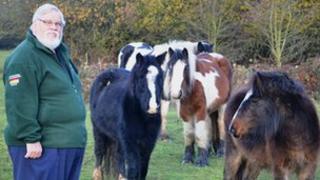 Horses grazing freely on public land in a Northamptonshire town are to be taken away after owners ignored notices giving them seven days to remove them.
Wellingborough council set the deadline of 09:00 GMT on Wednesday for the horses to be moved following complaints from residents.
An inspection by council officials found that 13 horses had been removed but at least 12 remained.
The council said it had called in specialist contractors to remove them.
'Council-owned fields'
Notices had been served in areas of council-owned land in the Hemmingwell and Redwell wards, the council said.
It followed reported incidents of horses roaming local streets, damaging property and frightening children.
Councillor Peter Morrall, chairman of the council's community committee, said: "We agreed back in May to get tough on this and, after making all the necessary arrangements, we served notices telling the owners they needed to remove them, or we would.
"A number of tethered horses have gone, but there are still quite a few left grazing loose in council-owned fields."
Wellingborough Council said it would try to rehome the horses with equine charities or suitable individuals in the area.
Owners will be able to reclaim the horses if they pay a fee to cover costs incurred by the council.
A council spokesman said: "It is not proposed to use euthanasia, unless the horse was very sick or seriously injured and that decision would only be made by a vet, not the council or its contractor."