Elephant abuse trial: Circus owner Bobby Roberts's 'disgust' at attack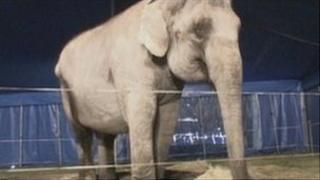 The owner of a circus elephant has told a court he was disgusted when he saw footage of one of his employees striking the animal with a pitchfork.
Circus owner Bobby Roberts, 69, said he would never have condoned the behaviour of the groom who attacked the animal.
Northampton Crown Court has been shown secretly recorded footage of the elephant being abused last year.
Mr Roberts and his wife Moira, 75, deny causing unnecessary suffering and failing to prevent animal cruelty.
Chained up
The covert footage was recorded by welfare group Animal Defenders International (ADI) between 21 January and 15 February 2011.
It shows the Asian elephant, called Anne, being kicked and struck with a pitchfork several times by the groom, Nicolai Nitu, at the Bobby Roberts Super Circus's winter quarters in Polebrook, Northamptonshire.
Mr Roberts told the court he had no knowledge of the behaviour of Nitu, who is believed to have returned home to Romania.
The circus owner told the court: "I can't tell you what I would have done. The police would have been involved.
"Still, now when I think about it, it goes through me, I just can't believe it."
The footage also shows Anne constantly chained to the ground.
The 58-year-old elephant can be seen chained by one foot and one hind leg in a barn.
Mr Roberts told District Judge David Chinnery he was unaware that Anne had been constantly chained and that the groom had not followed his instructions.
The circus owner admitted Anne would be chained up at times but said his instructions were that she be let loose behind an electric fence in a cordoned off area of the barn when possible or, if the weather was good, that she be taken to a field outside.
He continued: "If someone would have told us we would have known.
"Do you think I would have let it go on if I'd have known anything about it?"
Mr Roberts and his wife, from Oundle in Northamptonshire, also deny a charge of failing to ensure the elephant's needs were met by not giving her medication for her arthritis.
The trial continues.