Northampton Saints Rugby Club raises £500,000 for new stand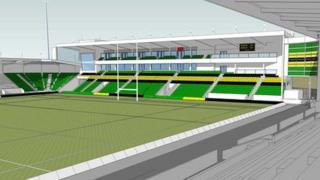 Northampton Saints Rugby Club has raised £500,000 for a new stand by selling shares to fans.
The Premiershhip team, based at Franklins Gardens, released the shares in September. They were previously held by club trustees.
The money would be used for the initial construction of a new North Stand to increase seating capacity from 13,500 to 15,500.
Work is expected to begin on the stand in summer 2014.
'Hard-earned money'
The club's chief executive, Allan Robson, said the sale of the 500,000 shares was a success.
He said: "In selling all of the available shares, we have taken a big step in the funding of a development which will be crucial in ensuring the long-term health and sustainability of the club.
"I would like to thank all of the supporters who ordered shares and have invested their hard-earned money into the club. It is this commitment which makes Northampton Saints such a great club."
The shares were sold for £1, with fans having to buy a minimum of 250.
Share certificates are currently being printed and will be sent to shareholders before Christmas.
The club said it was still in talks with the supermarket company Asda to help fund the expansion project.
A full planning application is expected to be submitted in 2013.