Northamptonshire inspector sacked over Facebook image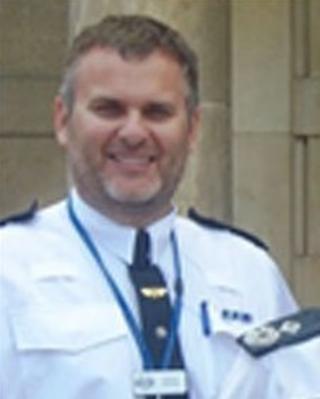 A police inspector has been sacked for posting a lewd image on Facebook and making "inappropriate" comments to staff at Northamptonshire Police.
Daemon Johnson, who had enjoyed a 25-year career, said he was deeply sorry for his actions.
He said his comments were "office banter", without which he would have been "like a robot".
Police said "the most appropriate outcome was dismissal" but said he had a right to appeal against the decision.
Mr Johnson, who was dismissed on Monday, said he was investigated after he "accidentally" posted an image to his personal Facebook page which had been intended for his partner's mobile phone.
"It was a genuine mistake and I pressed the wrong button and sent it to Facebook," he said.
"As soon as I realised what I had done I took it down."
'Sexual' comment
He said that, as a result, Northamptonshire Police looked at his emails and found messages he had exchanged with his ex-wife, a police community support officer (PCSO).
The panel decided that the email to her included details constituting a "sexual comment".
A further email Mr Johnson sent, this one to a male colleague, was deemed to contain an obscene word.
He was also investigated for a comment made to a female colleague in the control room.
Mr Johnson claimed the woman made a statement to the panel to say she was not offended by what was said.
"It was just banter, it's something that creates rapport in a difficult and demanding job," he said.
"I have the utmost respect for everyone in the police.
"But this case proves that the police service doesn't allow for individuals to express themselves other than within prescribed limits. You have to be a robot, you can't really be yourself."
"I'm extremely disappointed with the misconduct panel's decision but I'm also deeply sorry to my colleagues and the community for letting them down."
'Discreditable conduct'
Mr Johnson said he was considering an appeal but also wanted to move on with his life.
Supt Jan Meagher, head of professional standards, confirmed Mr Johnson has been dismissed over "improper behaviour".
"The matters breached the Standards of Professional Behaviour, namely 'discreditable conduct' and 'equality and diversity', she said.
"We will take robust action in cases where we find the standard expected has not been upheld.
"As with all disciplinary hearings, every officer has a right to appeal."