Ding murders: Michael Ellis MP assured of Du extradition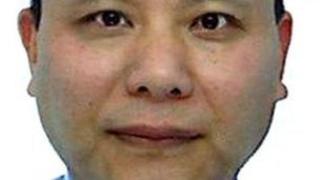 The chief suspect in the case of a family murdered at their home will be extradited from Morocco, the government has assured the victims' MP.
Jifeng and Helen Ding and their two daughters, 18-year-old Xing and Alice, 12, were stabbed to death at their home in Wootton, Northampton, in April 2011.
Anxiang Du, suspected of the murders, was arrested in Morocco in July.
Michael Ellis, MP for Northampton North, said it was a case of "when" Mr Du would be brought back to the UK.
'Very co-operative'
A recent BBC investigation found Mr Du had spent 14 months sleeping rough in Morocco before being arrested by police.
Conservative MP Mr Ellis had contacted the Home Office and the Foreign Office to see if the extradition could be speeded up.
He said he had been encouraged that action was being taken following a meeting with the Home Office Minister for Immigration, Mark Harper.
"Mr Harper confirmed that Anxiang Du is currently in the custody of the Moroccan authorities and they have been very co-operative," he said.
"I'm confident that this is a case of when Anxiang Du would be brought back to the UK and not if."
Mr Ellis said no dates had been given for Mr Du's extradition.
Police believe the Ding family were killed on 29 April 2011.
Mr Du, from Coventry, worked at a herbal medicine shop in Birmingham.
The Home Office said the extradition process, including the length of time it would take, was a matter for the Moroccan authorities.