Lava & Ignite club crush deaths: Three further witnesses sought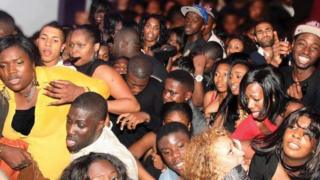 A further three witnesses to a Northampton club crush which led to the deaths of two women, are being sought by police.
The women died in hospital after the Wickedest Wickedest event at Lava & Ignite nightclub in October 2011.
Police said following a poster appeal, five key witnesses have helped with the investigation.
Students Nabila Nanfuka, 22, and Laurene-Danielle Jackson, 19, both from London, died after the crush.
'Possible names'
Posters were issued to universities across the UK in the hope that more witnesses would come forward.
Det Insp Louise Hemmingway said: "We have spoken with each witness directly and they have provided information which will assist the investigation.
"We have received possible names for a further three key witnesses and we continue to work towards a positive identification of those three individuals."
Northamptonshire Police said the witnesses were not suspected of crimes.
Ms Nanfuka, from north London, was studying leisure and tourism at the University of Northampton. She died at Northampton General Hospital.
Ms Jackson, 19, from Shepherd's Bush, was studying psychology and criminology at Kingston University in London. She died at Glenfield Hospital in Leicester.
Northamptonshire Police said it had received an overwhelming response on Twitter and more than 4,000 people have seen CCTV footage put on Youtube.
The investigation is continuing and the officers are working alongside health and safety investigators from Northampton Borough Council.