Northamptonshire Roman town site looters condemned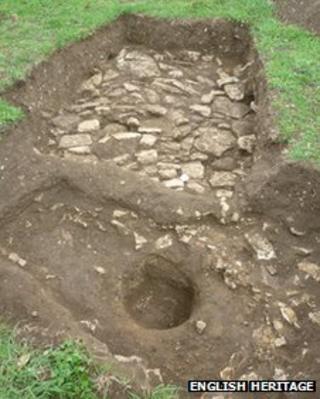 English Heritage has hit out at the "thieves using metal detectors" who looted the site of a Roman town in Northamptonshire.
Peter Cox, 69, of Lancaster Street, Higham Ferrers and Darren West, 51, of Duck Street, Rushden, stole artefacts from a monument at Chester Farm.
Both admitted two counts of theft and were handed a suspended sentence at Northampton Crown Court on Wednesday.
English Heritage praised the work of the police and prosecutors.
Both received a 52-week sentence suspended for two years and were ordered to pay £750 costs and £750 compensation.
The prosecution involved English Heritage, Northamptonshire Police, the Crown Prosecution Service (CPS) and the British Museum.
English Heritage said the Northamptonshire County Council-owned site "is most significant for its surviving remains of a Roman walled town that includes roads, temples and many other buildings".
The site has long suffered from trespassers, and a Grade II* listed 16th and 17th century farm house on the site was seriously damaged by arson in 2010.
Northamptonshire Police launched an investigation after two English Heritage officers witnessed the two men metal detecting on the site last July.
Damage was caused to the monument, known as a scheduled monument after being included on a protected list or schedule because of its historical importance, by the excavation of trenches, which had been illegally dug in search of artefacts.
Police arrested the men and in a raid on their homes found a large number of Iron Age, Roman and medieval coins, metal artefacts and pottery, along with metal detecting equipment and documents relating to the monument.
Experts from the British Museum helped to identify and date the archaeological finds.
Mike Harlow, governance and legal director of English Heritage, said: "The sentence today sets an important watershed in the combat against illegal metal detecting and acknowledges its true impact on society.
"These are not people enjoying a hobby or professionals carrying out a careful study. They are thieves using metal detectors like a burglar uses a jemmy.
"The material they are stealing belongs to the landowner and the history they are stealing belongs to all of us. Once the artefacts are removed from the ground and sold the valuable knowledge they contain is lost for ever."
Ch Insp Nick Lyall, of Northamptonshire Police, said: "After an extensive joint investigation between many agencies we are happy with today's court result. It will send a clear message to those that want to disrupt historic sites in the future."